SNS COLLEGE OF PHARMACY AND HEALTH SCIENCE
sns 5 pillars

In SNS, we strive to touch every leads of world we live in. Through design thinking we focus on delivering quality education by providing an effective learning environment, and true innovators who fix the real social needs and issues.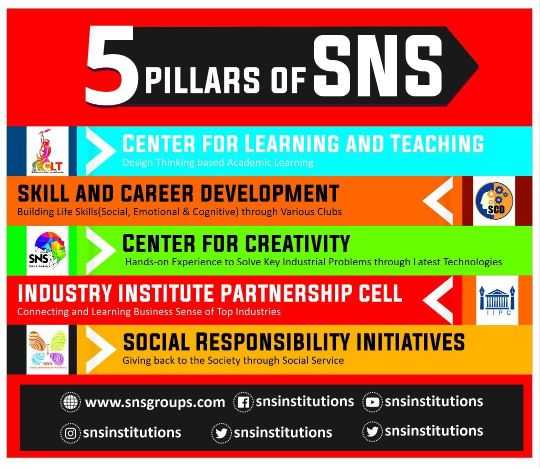 holistic development
Education is not a single thing, it's everything. We have created 5 centers which act as our pillars of SNS covering all streams of lives to strengthen our education system. 
Rather providing a traditional learning environment, we focus on building a culture focusing on effective teaching and learning, innovation, skill and entrepreneurship development, industry connect and social responsibility initiatives. Applying Design Thinking to all these dimensions helps us the students to have the academic freedom to understand complex problems and principles through engaging learning activities and helps nurture progressive minds. With leading-edge faculty and remarkable alumni, we are committed to providing students with a challenging and relevant education for developing them to have an impact on the world and solve the most pressing social issues of our nation.